Bayraktar UAV completes 4,000 hours of flight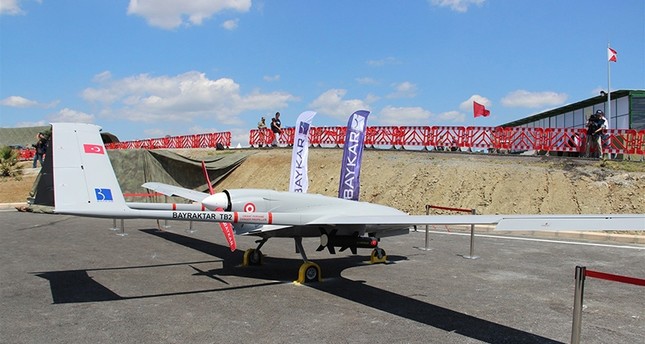 IHA Photo
The "Bayraktar," TB2 Turkish-engineered tactical unmanned aerial vehicle (UAV) successfully completed 4,000 hours of flight.
In April, the Bayraktar, manufactured in collaboration with Kale-Baykar, shot an MAM-L smart ammunition projectile armed with a warhead for the first time during a test. The ammunition, fired from the UAV on a shooting range near Konya, was developed by ROKETSAN and managed a direct hit to its target. The Bayraktar was fired during a test for the first time last December but without a warhead attached.
In ongoing tests, the drones are expected to carry additional ammunition. Each round of ammunition, the MAM-L and MAM-C, developed by Roketsan for the drone platforms, weighs 22.5 kilograms. The guided ammo with the warhead, weighing 10 kilograms, can hit a target up to 8 kilometers away. In the wake of the DAESH missile attacks in Kilis in Turkey's south, Turkey ordered Predator armed drones from the U.S. Now, with the advancements made in the Bayraktar drones, they are expected to be used as an armed UAV platform in the region.
From: http://www.dailysabah.com/money/2016/06/29/bayraktar-uav-completes-4000-hours-of-flight
Share the post "Bayraktar UAV completes 4,000 hours of flight"