GoPro Is Betting This Slick Drone Will Save the Day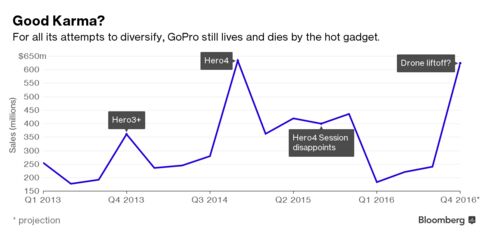 For GoPro, there was nowhere to go but up–literally. Its first drone, dubbed the Karma, hit the market last week, a strategic moonshot aimed at carrying the struggling company beyond the increasingly saturated market for cubic cameras in a plastic case.
Despite its listless efforts to become a media player, GoPro is still a hardware company. Its fortunes rise and fall entirely on whether it has a hot new product. Last year's attempt, the Hero4 Session, was a miss, and GoPro's sales and stock-price have wallowed ever since. The company said on Thursday evening that sales fell 40 percent in the quarter ended Sept. 30, to $241 million. The stock fell by 7 percent yesterday in the lead-up to the announcement and plummeted a further 20 percent in after-hours trading.
Chief Executive Officer Nicholas Woodman pledged that—in the fourth quarter—the drone and a new iteration of GoPro's signature camera will drag the gadget firm back to profitability and generate its second-best sales on record. "These are the best products we've ever made," Woodman told analysts.
 However, GoPro's new Karma drone, while slick and exciting, leaves 
something 
to be desired. It can't be programmed to follow someone, has no system to avoid obstacles, and can't be controlled via a smartphone. These would just be nitpicks were it not for the 
DJI Mavic Pro
, a rival drone unveiled a few days after Karma. The Mavic, which comes from the company that dominates the drone game, has all the things Karma lacks—plus it's smaller and lighter and flies far higher and farther.
The other knock on the Karma is GoPro's signature fisheye lens. The wide-angle format is super for grabbing footage without worrying about keeping the subject precisely framed. Someone shooting from a pair of skis, for example, will find it forgiving, and more importantly it works very well with dogs.
However, at altitude, the more than 20 million GoPro cameras sold thus far tend to make the world look a little bendy1. Skydiving is fair game, but the distortion is an issue for someone looking to realistically render a sprawling estate or an elegant wedding.
Level 1 Productions, which makes feature ski films, sent a batch of its GoPros to a third-party company to replace the fisheye lenses entirely. Meanwhile, it shot about 15 percent of its latest offering, Pleasure, with the Phantom IV drone made by DJI. "The camera is rock-solid," Level 1 founder Josh Berman said of DJI's drone. "And it basically flies itself."
GoPro may not need to have the best drone on the market. For one thing, the company will be selling its little flying eggbeater into a nice tailwind. The market for drones is expected to explode in the next few years as a wide range of jobs, from crop-dusting to shipping, co-opt the technology.
And GoPro isn't trying to dominate an entirely new market. The Karma is mostly intended to carry sales of its other products. In a July conference call with analysts, GoPro executives used the "e" word seven times: "ecosystem." The theory: Someone with a GoPro camera will be more likely to buy a GoPro drone, and vice-versa. The strategy seems to be a sound one: In a recent Bloomberg survey of people who use point-of-view cameras, 39 percent said they would be in the market for a drone costing more than $500.
Fittingly, the major Karma selling point is that it's slightly cheaper than the Mavic. The drone alone costs $799, while $999 buys the machine, plus a Hero5 camera2. "It looks to be a pretty well-refined tool geared toward amateurs crossing over into low-end professional production," said Berman, the ski-film guru.
Meanwhile, GoPro is spending lavishly to make it easier for people to upload, edit, and share its videos and pictures. The company's research and development expenses have ballooned as it overhauls and expands its suite of software and apps.
Bloomberg Intelligence analyst Jitendra Waral said GoPro should have prioritized this long ago. "It's a nightmare," he said. "Just look at something like Google Photos; all you do is take the picture and they do the rest. This is the direction GoPro is finally going in."
The new Hero5 Black camera, which went on sale in early October, will automatically upload footage. Meanwhile, the company is rolling out a desktop editing platform called GoPro Plus that will automatically sync with the camera and upload and store video files.
"By the end of the year, GoPro is going to be much more of an ecosystem company and an end-to-end solution for our customers," Woodman told analysts on a conference call in July. "Whereas in previous years, we were primarily focused on enabling the capture of experiences."
Thus the drone, according to Woodman, is "so much more than a drone." Maybe so, but at the moment, it looks like bad karma.
Share the post "GoPro Is Betting This Slick Drone Will Save the Day"